Ud og Ind (Out and In) —is a video installation by Olivia Droop.
Olivia Droob, is a self-taught video maker, that loves to play with layers, transitions and broken constructions, so one will probably have to keep up and have a little patience to find stability and calm in the visual side of Ud og Ind.
For the sound score of this film, I tried to strike the same field of tension between the real and the electronic, composed and machine-made to follow Olivia Droob's thematics in the film.
Field recordings, feedback, and various destructive methods provoking sonic errors, are used, along side drones of long sustained tones from recorded piano, harp, guitar, and synthesizer.
Film by Olivia Droop — Sound by me.
Phaedrus - Mstg_rror — a seven track vinyl, limited to 250 copies + download on bandcamp, released on phloq, November 2017.
The Aesthetics of Error is a continuous theme in this release, which is heard in the music and shown visually in the cover art, track titles and album title (Mstg_Rror = Mistake_Error). All titles are Danish words spelled wrong, resulting in new words in the process.
The compositions are made from long minimal drones, extensively processed by vintage analog reel-to-reel recorders of both poor and highly professional quality - and by several processing methods like sampling and filtering in Max/Msp. By using tapemachines for audio creation and not just audio playback, the border between the conscious and the unconscious error, was challenged.
"The sound of error is double-edged. The error draws attention to itself and refers the listener back to the machine and the process of its creation, and the error also create abstract and unpredictable sounds that could not be created if the error had not occurred."
The error-sounds have been broken, torn and damaged in various ways, and afterwards put into systems, so they rather associate with unreal, dreamy or distant moods than of misleading mistakes.
"SOLO-DOME" — Enter the center spot of the solo-dome and experience an extraordinary sound experience inside its dark interior!
The SOLO-DOME creates a room in the room — a stage on the stage. The purpose of the SOLO-DOME installation is to present the listener to an intensified experience of sound. Because the listener is alone — and the interior of the SOLO-DOME is darkened, it is natural to close the eyes and give way to the music, and not least the sound from the outside world.
The SOLO-DOME installation is the product of my Master's project from DIEM (2016), entitled: "Compositions for Solo-Dome - A revised listening experience". The theme for the Master's project and thus this installation was my urge to compose music, that after its birth endeavoured to remain in the same room, as it was created, on the same medium, and heard through the same loudspeakers as it was composed. In order to achieve this goal - the music presented inside the dome, was also composed inside the dome.
The installation is furthermore a reflection and a comment to our growing use of compressed media (mp3) and modern Smart devices with built-in speakers, both of which have a destructive effect on sound. More and more, the convenience of these devises, have a higher priority than high-fidelity and good sound quality. By locking the piece of music to the SOLO-DOME's room and speakers, as well as the computer's RAM - the music will by and large remain the same, as I intended when I composed the piece.
"Phaedrus - Korowai EP" — An audio-visual experiment in two parts, out on Youtube and Vimeo. And the music alone can be found on Soundcloud, February 2015.
The music is dark, noisy and very slow evolving. Very dense in some frequency-bands — absent in others. The two tracks came out of experimenting with various analogue feedback systems like no-input mixers, tape-loops and a homemade Leslie.
The visual side of Korowai, is programmed in max/msp. Though there is no automated or digitally synced coherence between the visual and the music side. The movement of the chopped and often pixelated strait lines and geometric figures was improvised to the music. The visuals add to an already eerie mood in the music, that resemble a desolate place in space.
Koa Ni — 5 tracks digital Ep released by  phloq
Glimpses of beauty occurred .---------..mainly when challenging an old computer's CPU, by running a to-large-to-handle programmed patch of self-generating synthesis.
"Koa-Ni EP" is an ode to the 90's use of aesthetics of error in computer-music. Though instead of using malfunctioned CDs (Oval - style), I generated the music in max/msp, using the "digital-modular" a eurorack-style synthesiser/sampler programmed in max/msp
To further maintain the digital error-aesthetics, the front cover picture were created by using data-bending technics.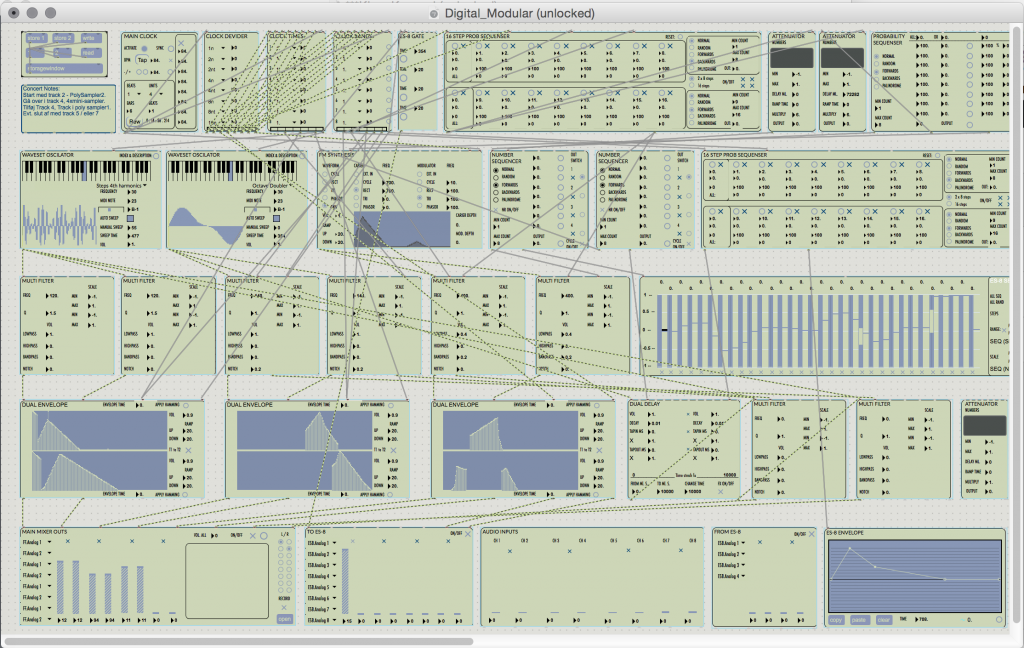 "Digital Modular" — A eurorack inspired digital instrument programmed in max/msp.
After noticing what eurorack synthesisers was able to achieve sonically, I discovered how I could implement the same kind of changeability into my primary choice of digital working tool: max/msp, using B-patchers. This is not a unique idea and there are far more agile and better designed "max-modulars out there. But nevertheless, I love patching and building one myself meant designing all the features on a module that I could ever ask for.
I have worked on this project since 2013, making new overall designs, adding modules and updating old ones. The system is my primary sound-creating and processing tool when composing or when I play live concerts.
Features are amongst others: multi step sequencers, scrambling samples, wave set osc, granular effects, panners, the use of multiple time-signatures, semi-random sequencing, midi-sequencing and controlling, modules that communicate with the Expert sleepers ES-8 eurorack modules, and much more.
"phaedrus - specified objekts" — a seven track CDr, limited to 50 copies + download on bandcamp, released on phloq, February 2013.
The music created for this release, came in to being, as a consequence of a concept I developed during the winter of 2009. As an experiment I made a hardware setup connecting every bit of electronic equipment I owned. The outcome being a big no-input mixing feed-back station, that included a bunch of random sound-modules, effects as well as an Akai S2000 Sampler, a cheap Electrical Bass Guitar and a Moog Prodigy synth.
After weeks of routing and re-routing while exploring the sound, I slowly gained more and more control over the "system". Quickly I became very aware of my own role as composer, when I played. And questions emerged: How much of the sounds were coincidental, and how much were planned? Why did improvising feel more "true" in terms of expressing a feeling, than composing in cubase as I were used to.
In the process of seeking answers to these questions this Ep came to life.
Phloq — a drone/ambient micro-label that release music on Vinyl, Cd, Cassette Tape, Streaming and Digital formats.
In the spring of 2012 I co-founded the micro-label: "phloq" with a longtime friend of mine and fellow electronic music composer René Middelhede. Our main homepage: phloq.dk was to be a digital bulletin board where people could get to know us, and we could pull our resources together as a collective. The initial idea was to unify not only music-artists but also audio-visual and visual artists.
We may not be so much of a broad unified collective as initially thought, but after nearly six years, phloq has grown greatly in experience and we have found our own Phloq-mentality and Phloq-Aesthetics. We are driven by the narrow, aiming at the small and obscure and ready to make an impact where that may take us. Phloq has released about a dozen physical and digital releases as of now. (late, 2017)
Over the years we have held several events in Aarhus and Copenhagen and collaborating with very experienced and exciting partners like Hackstage (Cph.) and ALF (Aarhus) and we always strive to make the concerts and exhibitions open to anyone, yet eventful and memorable.
Phloq is a nonprofit organisation — we don't make an income from our releases. If you buy one of our releases, or go to one of our events — all of the money go towards the next release. We believe in a DoItYourself approach to entrepreneurship, and that we can create our own ways to make our art available in the public space.
"Oddysse - En fortolkning af en rejse" — a fifteen minutes long piece, that consists of four movements; "udbrud", "ude" "udefra" og "udsyn".
As the tittle suggests (En: Oddysse - An interpretation of a voyage), this piece is a sonification of a journey. The beginning of a travel, is also a detachment from the existing — and one undergoes a change. While composing this piece I always had a physical journey in mind, but it is up to the listener to define a journey. - Whether it is physical or mental.
The four movements are:
"Udbrud" / "Outbreak", describes a journey from the domestic and customary life, into the unknown.
"Ude" / "Out" There", describes the destination: an until now unexplored landscape where everything is new.
"Udefra" / "From the Outside", describes the processing of the journey, after returning home. It is the remembrance of the chaotic journey, with many new impressions, that collides with the uniform, monotonous everyday life you come home to.
"Udsyn" / "Outlook" describes the thin line when the "processing" ends and the "acceptance" starts. Slowly the journey becomes a distant memory, and one's travel experiences becomes life-experience. Journey complete.